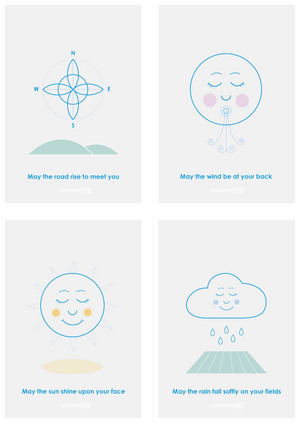 Modern Éire
Ah Bless! (Set of 4)
Sale price Price $35.00 Regular price $43.00 Unit price / per
Free Standard Shipping Worldwide
Save 10% When You Purchase Any 2+ Items
Inspired By
The traditional blessing we grew up with: may the road rise to meet you; may the wind be at your back; may the sun shine upon your face; may the rain fall softly on your fields. There is another line, but we can never remember it!
Eco-Friendly Prints
290gsm Bamboo Paper
*This product comes as four separate prints which you can frame in a set. A single print version is also available.
Museum Quality, Sustainably Made. 

+ Printed to last 100+ years. 
+ Long-lasting archival paper made from bamboo & cotton industry by-product. 
+ Lightfast water-based pigment inks. 
+ Compostable card, paper & packaging. 
Handle the print with care; keep away from direct sunlight & damp conditions.
Shipping The Prints
All prints are shipped flat in sturdy cardboard envelopes. An estimate of how long it will take to get to you is provided at checkout. More information is available here. 
Collecting The Prints
You can also choose to collect the print instead in Ramelton, Co. Donegal. An estimate of how long it will take is provided at checkout. We will be in touch to schedule this with you. 
Further Information
Taken care of, these prints will not fade for 100 years while our bio-packaging will disappear within a few months when composted. Bamboo is the most sustainable paper source due to its fast-growing nature, while our inks are water-based. With recycled paper supports, this is an environmentally friendly print that upholds to museum quality standards. 

This type of print is called giclée /ʒiːˈkleɪ/ (zhee-klay). 
This is a French term to describe a high-quality print made with tiny amounts pigment ink on long-lasting fine art quality paper. The pigment in the ink helps keep colours lightfast as long as the print is not placed in direct sunlight. The paper mill we use is nearly 400 hundred years old and knows a thing or two about making paper last the test of time.
© Modern Éire. All Rights Reserved.